The End – Finally
Posted by Becca on Dec 27, 2014 in My Books, Writing | 8 comments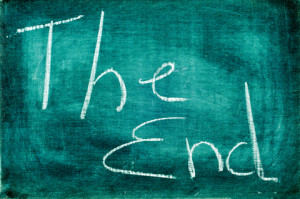 The end.
I love writing those two words.  Finishing that first draft is one of the best feelings in the world, in my opinion.  It doesn't matter how crappy it is, or how much editing it will take to make it readable.  I made it to the end—an accomplishment that frequently seems impossible from mid book.
Last week, I got to write those two words again.  Yes, I finally finished FF3.  It's off with beta readers now.  I'm afraid I won't make a December release date as I was hoping, but it goes for editing in early January, and cover art mid-month, so it shouldn't be too much longer.
It frustrates me to no end that I can't write faster.  Yes, I do have a day job and a family to take care of, but four months seems like a long time to write a first draft.  My writer friends assure me that the process gets, if not easier, at least more reliable the more you do it.  And though I've been writing for decades, I've only been taking it seriously for the last year.
Back in September, I wrote a blog post about improving my method.  I decided to give outlining on honest try.  It certainly helped, but I'm a long way from mastering that technique.  Even if I don't turn out to be the sort of writer who plots every scene ahead of time, I do think it's incredibly helpful to have some kind of roadmap before I begin.  So, I'll keep trying to find the method that works for me.
Thanks for your patience as I find my way.  Hopefully, the next book will come together quicker!