FF5 Release Date and Other News
Posted by Becca on Mar 3, 2017 in My Books | 2 comments
The first draft of FF5 is finished and currently with beta readers.  This book is the biggest in the series at 117,000 words (though that number could change as it goes through the editing process).  FF5 goes to my editor at the end of March/early April and is scheduled for formatting after that.  Look for FF5 to release on April 28th.  Meanwhile, you can check out some of the FF5 snippets I've shared over on my Facebook page.
In anticipation of FF5's release, The Bonds of Blood (FF4.5) is on sale for just $0.99.  The Final Formula series was originally set up to alternate between novels told from Addie's point-of-view, and novellas told from James and/or Elysia's points-of-view.  These in-between books are not side stories, but part of the overall story, often setting up events in Addie's next book.  As the series went on, these in-between books have grown from novellas to novels, with The Bonds of Blood the longest yet.  FF5 picks up just hours after The Bonds of Blood ended.  Here's the blurb, cover, and retailer links if you're interested.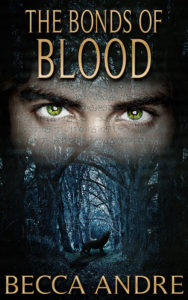 Born without a heartbeat or a soul, James Huntsman has never felt part of the mortal world. It's an insecurity his abusive brothers reinforced daily, and with his very existence bound to theirs through the alchemically altered blood they share, James has always been at their mercy.
All that changed when James found a home within the magical community and fell in love. Elysia Mallory doesn't mind that he is technically dead. The only thing standing between them is her lethal magic. As her health continues to deteriorate, James searches for a cure, determined to save her and give them a chance at a life together.
But his brothers aren't willing to let him go, not when the Huntsman legacy is dependent on James. They will stop at nothing to capture their wayward brother, and that includes using Elysia as leverage. James is left to decide how far he is willing to go to save the family he has chosen from the family he was created to serve.
Read an excerpt here: The Bonds of Blood
Pick up a copy here: Amazon | Barnes & Noble | Kobo | Smashwords | Apple
…
In other news, I'm still hard at work on the first book of my new series, scheduled to release in August 2017.  As I mentioned in a previous post, I'll be initially releasing this book in Dominion Rising, a multi-author bundle that includes 22 never-before-published science fiction and fantasy novels.
I'll share more details about my book as the date gets closer, but the bundle is currently up for pre-order at just $0.99.  The price goes up once the bundle goes live, so be sure to grab a copy now if you're interested.  I've included the cover, blurb, and retailer links below.
UPDATE – Dominion Rising is now available for pre-order on Amazon.
Dominion Rising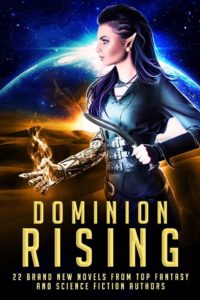 Find the Science Fiction and Fantasy reads you've been craving! Whether it's alien invasion or dark fairytales, heart-pounding galactic adventures or cyberpunk romance, Dominion Rising will satisfy with a thrilling mix of 22 BRAND NEW FULL LENGTH novels set in fantastical realms.
Sword and sorcery, far-flung galactic empires, alternative history, epic magic, slipstream futures: this collection of carefully selected, exclusive novels is sure to please and delight readers of speculative fiction.
Over five thousand pages packed with aliens, faeries, vampires, gargoyles, warriors, telepaths, space pirates, starship captains, hapless mercenaries, street urchins, robots, cyber-enhanced humans, badass heroines, and lost princesses. These award-winning, New York Times, USA Today and International bestselling authors have left no stone in the science fiction and epic fantasy universe unturned to bring you the very best escape from planet Earth.
All the novels are only available in the Dominion Rising collection.
Available for pre-order at: Apple | Barnes & Noble | Kobo | Amazon