What's in a Name?
Posted by Becca on Apr 10, 2015 in Writing | 8 comments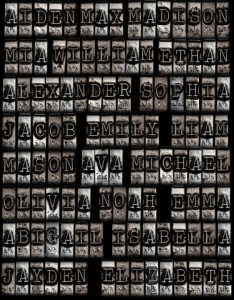 In today's post, I thought I'd chat a bit about what goes into the selection of a character's name. Or at least, how I select one. 😉
Naming characters is one of the fun aspects of writing fiction, but it can be a challenge. Much like coming up with a name for a new baby, I want a name that sounds good to my ear, but one that also means something to me. Sometimes, I find the perfect name right off.  Other times I search through baby name books and websites trying to find the name that fits the character I have in mind.
I like to nail down my main characters' names earlier on. It's difficult to change a name once I've gotten to know him or her. With magical characters, I often chose something that correlates with their talent. It can be the meaning of the name, the sound of the name, or both. Era is derived from an Albanian word meaning wind, but it also sounds like the English word air. Rowan's name is from a Germanic source and means red. It is also the name given to the red-berried rowan tree. In European folklore, the rowan tree was believed to be magical, and used to ward off evil. A nice match for a red-haired Fire Element who is one of the good guys.
Sometimes my characters name each other. James's charming brothers called his new friend the Addled Alchemist, and since she's not the sort of person to let those jerks get the upper hand, she took the name Addie.
My characters don't always have a name when they first appear in my stories, so I'll frequently use a placeholder. Typically, I'll just grab a common everyday name. And the since the Final Formula is a contemporary fantasy series, I tend to leave the name as it is. I thought it logical to use names I hear in my day-to-day life, but I've discovered that a common name may not be the best choice.
I have had a few comments that my names aren't unique enough, and can sometimes run together in the reader's mind. It's too late to fix that now, but I will add "use unique names" to the list of naming rules I've come up with through my writing and reading experience.
My first rule is to keep names short and easy to pronounce–even in made up worlds with made up names. I find that it throws me out of a story if I have to stop and figure out how to pronounce a seventeen letter name with weird vowel combinations. If it's a story I'm writing, I avoid long names like the plague. I hate typing giant names over and over. (Ian's brother is sooo getting a nickname in FF4.)
Another naming rule I try to follow is to avoid starting character names with the same first letter. If a story has a Steve, a Sam, and a Stacy, they all run together after a while. If I'm writing the story, I have a tendency to accidentally type the wrong name during the excitement of a first draft. Though I must confess that I sometimes violate this rule. Era already existed when I found Elysia, but both names were perfect for those characters, so I left them.
Finally, I try to pay attention to how a name is pronounced to avoid silly sounding alliterations or rhyming names. For example, I almost had an Owen until someone pointed out that it rhymed with Rowan. *facepalm*
Writing is an on-going learning experience, so I'm sure I'll be adding to this list as I go along. Do you have any pet peeves about character names?