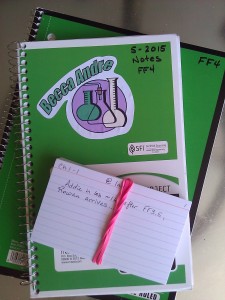 As you can see from the photo, FF4 is underway.  I've got my notebooks labeled (my daughter designs the cute artwork for my notebook cover) and the first couple of chapters written.  But since I'm not the speediest of writers, I was searching for something fun to do in the meantime.  I hit upon the idea of doing a character interview.  Some of my writing buddies have done those and they look like fun.
So… The first question is, who do you want me to interview? Addie, Rowan, James, Ian…any character in the series is available. Most votes wins and I'll post the interview here.  You can vote in the comments below, or over on my Facebook page.
If this turns out to be fun, I'll do more, so don't be disappointed if your guy or gal doesn't make the cut this time.  😀
Update  – The voting is closed, and it looks like Ian is the winner.  (Rowan came in second, so perhaps I'll do an interview with him at a later date.)  Now, what questions would you like me to ask Ian?  Please list them in the comments below, use the contact tab above to email them to me, or visit me on Facebook.