The Quest Continues
Posted by Becca on Mar 1, 2015 in Writing | 6 comments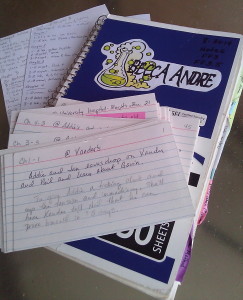 This one is for the writers in the audience, or anyone wondering how I go about crafting my stories. (Note the word crafting—it makes it sound like I know what I'm doing. Ah, the power of language.) To be honest, this post is more of an update on my ongoing quest to streamline my process.
Back in September, I wrote a post about my attempt to refine the way I write. I've been a seat-of-my-pants (aka organic) writer all my life. As I mentioned before, I credit this to my early approach when I wrote just for fun and just for me. I wrote until I reached the end, slapped the handwritten pages into a ring binder, and moved on to the next book. No planning, no plotting, and no editing. Pure entertainment. (Yes, I'm wild and crazy like that. Who needs a night out on the town? Give me a pen and paper, and I'll make my own fun.)
Well, things are different now. Readers expect me to turn new books out in a timely fashion. Not only new books, but books that make sense. (Readers are so demanding!) So, when I started The Alchemist's Flame, I decided to give outlining a try. I spent a couple of weeks filling out index cards and mapping the book scene by scene. I managed to get eighteen of my anticipated twenty-four chapters down. Good enough. I grabbed my keyboard and started in. By chapter two, it was clear I would need to tweak my outline. By chapter six, I'd blown it away.
I went back and redid the outline—more than once—but I gradually came to realize that the story didn't open up for me until I started to write the actual scenes. The characters had to talk to one another, and react to things before I could see where the story was truly going. Several of the key scenes in the finished book didn't even exist in the outline.
My conclusion: perhaps I'm not the kind of writer who can map out every scene before typing the first word.
Bummer.
It sounded so cool to work out all the kinks before I started the actual writing. Of course, this might be one of those the-grass-is-always-greener scenarios. But I will say that my experiment in outlining wasn't a bust. I did benefit from the planning aspect and puzzling out the big turning points in the plot. I also liked having a short-hand version of the story on a single sheet of paper. It was handy to be able to look over the book as a whole.
Now I've started the next book (FF3.5), and this time, I'm combining my two approaches. I did some minimal planning to identify the major plot points and my characters' goals, then I jumped right in. Five chapters into it, I stopped and started to construct my outline, expanding it a few chapters beyond the point where I stopped. I also continue to utilize the prewriting I mentioned in my previous post. Basically, I take a few minutes before each writing session to map out where I need the scene to go.
In conclusion, I've come to accept the fact that I'll always be an organic writer. But I also recognize the value of planning and organization. A novel is an unwieldy beast and it's tough to see the forest when you're focused on the wood grain. I'll keep experimenting to find the method that works best for me. Meanwhile, I'd better get back to FF3.5…