Speaking English – Kinda
Posted by Becca on Oct 24, 2014 in Random Ramblings | 6 comments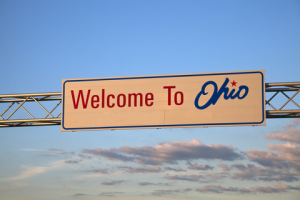 I sometimes joke that I don't speak English; I speak Appalachian. Most folks don't think Appalachia when they think Ohio, but the rolling hills in the southern part of the state are actually the foothills of the Appalachian Mountains. I tend to use words like y'all and reckon (as in, I reckon I'll go write a blog post now), though I try to keep a handle on it when I write. Last weekend, I hosted a writing retreat. My beta buddies Kendra and Lindsay joined me for three glories days of writing, but at one point, we did laugh about my accent. (Although Kendra's Oklahoma accent wasn't all that different.)
The first time I noticed that I had an accent was in high school. My Girl Scout troop had gone to Columbus, Ohio to spend the weekend volunteering at the Ohio Special Olympics. We met other groups from all over the state, and people kept asking us if we were from Georgia. Nope, Southern Ohio (pronounced o-hi-a). We found the notion funny because we knew what a southern accent sounded like. All you had to do was cross the Ohio River into Kentucky (we lived right on the border). For some reason, the accent is much stronger there. Curious the way a physical boundary can make such a difference, even in our world of cars and bridges where a river in no longer a true boundary.
When I decided to write a blog post on this topic, I did a little research. I wanted to see exactly where the boundaries of Appalachia were. I ended up on Wikipedia and found this: http://en.wikipedia.org/wiki/Appalachian_English. I read through the article, and was shocked to discover that I really do speak Appalachian. Okay, not to the extent shown in the article, but I frequently hear a lot of people who do—especially the older generation. Words like wash pronounced worsh, or droppin' the g in words that end in –ing. I've seen street signs with holler instead of hollow, or crick instead of creek.
It's not just how the words are pronounced, but sometimes the word itself. One of my favorites is substituting the word mango for bell pepper. I don't hear it much anymore, but when I was kid, that's just what you called them. If you ordered a pizza with mangos, you got bell peppers. I think I was in junior high before I learned that a mango is actually a fruit.
My editor (the awesome Shelley Holloway) and I have had many a giggle over my colloquialisms. Fortunately, my story is set in the same general region in which I live, so I get to leave some of them. However, until I get a better handle on my dialect, I reckon I won't be setting any stories too far from home.
***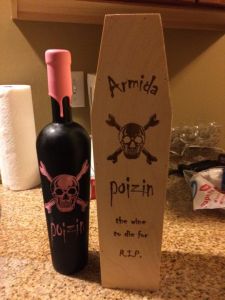 Speaking of our writer's retreat…I had to share this picture.  It's the wine I brought.  Is that cool or what?  My husband's cousin bought it for me when we were visiting California's wine country.  It came in a coffin and everything.  😀