Release News and a Sale
Posted by Becca on Mar 6, 2016 in My Books | 4 comments
For a limited time, The Final Formula Collection is just $0.99!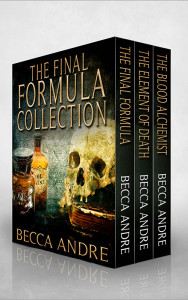 The Final Formula Collection is an ebook bundle containing the first three titles in the series: The Final Formula, The Element of Death, and The Blood Alchemist.  As an added bonus, this bundle includes two brand new short stories.
The Lich's Lab takes place between the last chapter of The Final Formula and the epilogue. The story is told from Addie's point of view and shows how she and Ian came to their working agreement.
A Christmas Formula is set a week or so after The Blood Alchemist.  In this one, Era and Cora tell the story of their first Christmas with Addie.
If you haven't read all the titles in the collection, or maybe you're interested in the two bonus short stories, now would be a great time to snatch up the bundle.
You can pick up a copy at: Amazon | Barnes & Noble | Kobo | Smashwords | Apple
Next Up
I'm currently working on FF4.5, the next James-Elysia novella, and hope to release it this summer.  But that's not all I've been working on.  I also have a novella told from Ian's point-of-view, giving a glimpse into his life as a young man.  It's the story of how he becomes an alchemist and first meets his wife, Isabelle.  I plan to release it in April, so be watching for a cover reveal and excerpt .  Also, I'll be sharing a few snippets on my Facebook page over the next few weeks.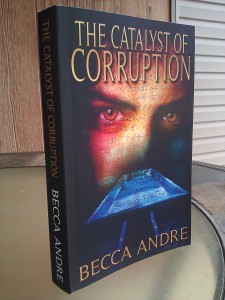 For those of you who prefer paperbacks, The Catalyst of Corruption is now available in paperback.  It should be on sale in all the usual places my paperbacks are sold.
Finally, to help pass the time between releases, I'm putting together another character interview.  Keeping with the spirit of FF4.5, I'll be interviewing James this time.  If you have a question for him, you can ask it in the comments below or send me an email.
Thanks for reading!