Picturing a Scene
Posted by Becca on Oct 13, 2013 in Writing | 4 comments
"The places used in this book are a product of the author's imagination or used fictitiously."
There's a lot of truth in that statement.  The majority of my scenes are conglomerations of real places and locations that exist only in my mind.  I thought it might be fun to share two real life locations that served as inspiration for settings in The Final Formula.
I'm not a Cincinnati native, but I visit often.  Each time I go, I'm on the lookout for interesting locations, and I can't wait to use some of the more iconic ones in future stories.  This time around, most of the settings are a bit generic, and when I imagined them, I pictured places I knew.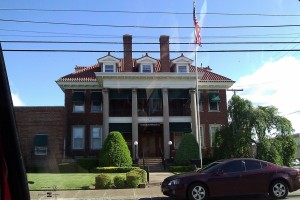 One example is my description of the Nelson Funeral Parlor.  The actual building I pictured was Daehler F.C. Mortuary Co. in Portsmouth, Ohio.  I only borrowed the exterior, though.  The interior described in the book is a figment of my imagination.  At least, I assume they don't have an alchemy lab in the basement at Daehler's.  😉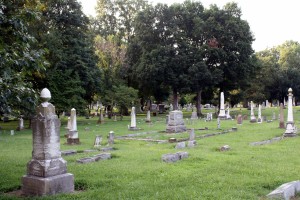 Another location is the cemetery where our heroes have their misadventure in the mausoleum.  (Funeral parlor, cemetery—I'm seeing a theme.  Can you tell I like creepy things?)  In my mind's eye, I pictured Greenlawn Cemetery, which is also in Portsmouth.  I love the weathered headstones, mature trees, and winding roads.  There are also a couple of mausoleums, but nothing like the one in the story.  (Thank goodness, huh?)
So, that's what I saw.  Hopefully, your impression was something close to that, or maybe something from your own life experience.  I try not to over-describe things.  Large passages of description bore me to read, let alone write.  Beyond that, I prefer to leave some things to the reader's imagination.  Let them make the setting theirs.
I've rambled enough.  Time to get back to that draft of the next story.  Feel free to share your thoughts.  And if you happen to be from the Cincinnati area or somewhere close by, do you know of any cool locations that might make a neat setting in a future story?
Thanks for stopping in!