It's Release Day! (Plus a Giveaway)
Posted by Becca on Aug 8, 2017 in Fun Stuff, My Books | 6 comments
The Dominion Rising Boxed Set has gone live!
Ferromancer is now out in the world!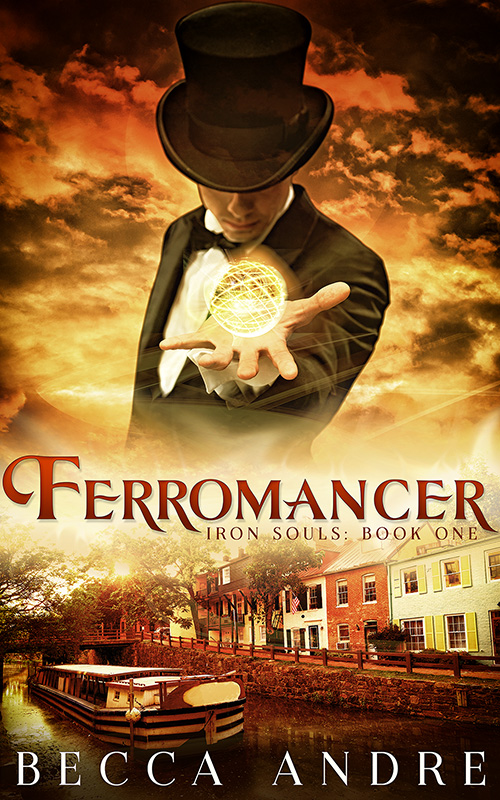 Suspecting that the railroad's new locomotive runs on forbidden magic, canal boat captain Bridget "Briar" Rose decides to steal the schematics and expose the truth. Kidnapping the man who designed the engine wasn't part of the plan, but solutions aren't always black and white—sometimes they come in shades of iron gray.
Read the first two chapters here: Ferromancer
Dominion Rising is available at: Apple | Barnes & Noble | Kobo | Amazon
…
Release Week Giveaway
I have some amazing Ferromancer swag created by Ann Christy, one of the Dominion Rising authors. This stuff is gorgeous. Fortunately, she made enough that I'm willing to part with some of it. 😉
I'll be giving away six items: a magnet, a braided bracelet, a cell phone dust plug dangle, a necklace, a keychain, and a bookmark. See the picture above for a better look at all six items. I also have a closeup picture of the bookmark so you can see the book charms used to create the necklace, dust plug dangle, bracelet, and bookmark. They're little books! One side has the Ferromancer cover and the other side has the Dominion Rising cover. It even has my name on the spine. So cute!
Winners will be chosen at random from the entrants. First name chosen gets first choice, second name gets second choice of the items left, etc.
How to enter: Post a review of Ferromancer somewhere. It can be on one of the retail sites, a place like Goodreads, or your own website if you do that sort of thing. Then email me (using my contact form here) and tell me where you posted your review.
Giveaway closes at midnight (PST) on Sunday, August 13th. I'll send out emails the following day notifying the winners.
Looking for more release week fun? Check out at the Dominion Rising Launch Party on Facebook. Meet the Dominion Rising authors and get in on the giveaways. My day to help host is Sunday, August 13th. Please come hang out with me. I'll have some paperbacks and more swag to give away.  🙂
…
Stay tuned. I'll be doing a cover/title/blurb reveal on my Final Formula side story featuring Doug and Era very soon.