Introducing My New Series
Posted by Becca on Jun 16, 2017 in My Books | 7 comments
With the Final Formula Series now complete, sort of (more on that below), I'm ready to move into new territory.  I've been working on this new series in the background, but since it wasn't scheduled for release until August of this year, I haven't said much.  (I don't know about you, but I just hate to be teased by something I want, only to learn there's a looong wait until it's available.)  But with the release date less than two months away, I think it's close enough for me to start teasing.
My new series is entitled Iron Souls, and is set in nineteenth century rural America, on the Ohio & Erie Canal.  I'm categorizing this one as a Steampunk Fantasy, though that might not be a true category.  From what I've read, steampunk tends to be science fiction, but my steampunk elements are fantasy based.  Since I'm a science geek, that seems to work for me.  I'm always trying to explain my magic with science, but where the Final Formula was alchemy, Iron Souls delves into metallurgy.
I hope you'll give my new series a try.  Though it's a different world, I'm still me, so you'll find mouthy characters, a little romance, some darker elements, and an occasional explosion.  And I must admit that I'm digging the magic system in this one.
But enough of that.  Here's the cover and blurb for Ferromancer, Iron Souls: Book One.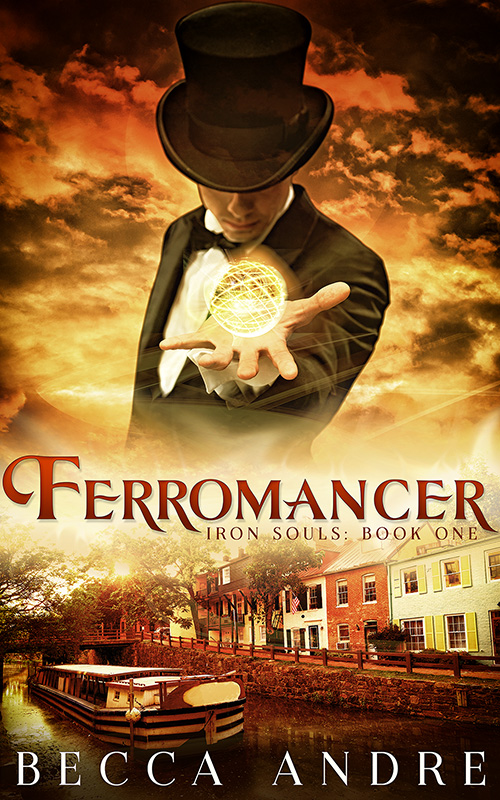 Captain Bridget "Briar" Rose wants for nothing. Each day is a new adventure, living the life she loves, running cargo on the Ohio & Erie Canal. That is, until her cousin decides to sell the family boat to finance a new business venture. He wants to build locomotives for the railroad—the very industry that could put the entire canal system out of business.
Not one to give up without a fight, Briar does a little snooping into her cousin's new business partner. When she gets a sneak peek at the locomotive plans, she suspects that the man is either a genius, or a ferromancer—one of the dreaded metal mages of Europe's industrial revolution.
Determined to reveal her suspicions, Briar takes the plans and heads for the newspaper office in Columbus, stealing the family boat in the process. Kidnapping her cousin's handsome business partner wasn't part of the plan, but when he shows up, demanding the return of his property, she can't let him go. After all, if Briar can prove that the railroad is using ferromancy, she could save more than her boat. She could save her way of life.
Ferromancer will initially release in the multi-author bundle, Dominion Rising, on August 8, 2017.  As I type this, the bundle currently includes 23 brand new science fiction and fantasy novels.  You can pre-order it now for just $0.99!
Available for pre-order at: Apple | Barnes & Noble | Kobo | Amazon
…
As Ferromancer gets closer to release, I'll share an excerpt.  Typically, I would be sharing snippets over on my Facebook page, but since these are brand new characters in a brand new world, I didn't think that would work.  However, I have been sharing snippets from the new Final Formula story I'm writing.  This story is told from Doug and Era's points-of-view, and is set between the last chapter and the epilogue of The Fifth Essence.
If you've read The Fifth Essence, you know that the series conflict is wrapped up by the end of last chapter.  So this new book is a true side story.  However, once I got into it, I realized there was a lot more story here than I thought.  I haven't set anything in stone, but this might be the start of a multi-book story.  And if things keep rolling along as they have, I should have this book ready to go later this summer.  I'll keep you posted.  Meanwhile, you can check out those snippets on my Facebook page.
Now, if I'm going to pull this off, I'd better get back to work.  Thanks for reading!