Ferromancer Sneak Peek
Posted by Becca on Jul 23, 2017 in My Books | 5 comments
As the month of July winds down (where does the time go?), the release date for Ferromancer, my new steampunk fantasy, rapidly approaches. As I've mentioned before, the novel will initially release in multi-author bundle, Dominion Rising, on August 8th. I'm excited to share this new story. Beta readers offered comments like "can't wait for book two!" and "loved it!" so I'm hoping that means it doesn't stink.  😉
Here's the cover, teaser blurb, and a link to the first two chapters if you'd like a sneak peek.
…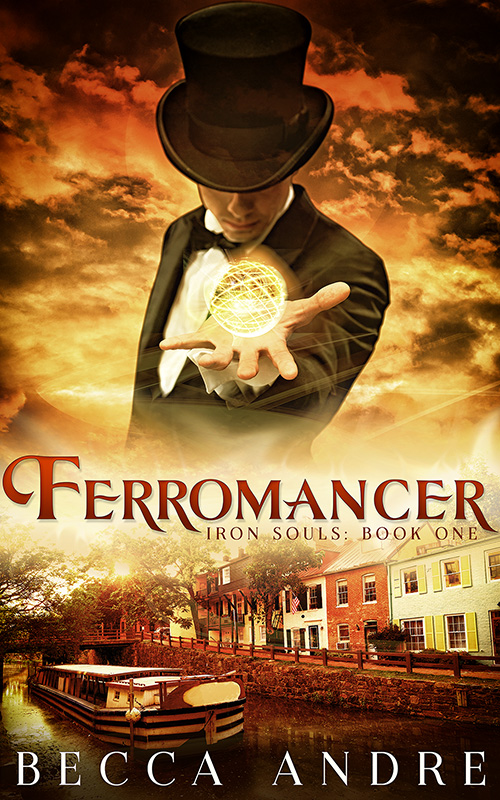 …
Suspecting that the railroad's new locomotive runs on forbidden magic, canal boat captain Bridget "Briar" Rose decides to steal the schematics and expose the truth. Kidnapping the man who designed the engine wasn't part of the plan, but solutions aren't always black and white—sometimes they come in shades of iron gray.
…
Read the first two chapters here: Ferromancer: Iron Souls, Book One
This 23 book set is only $0.99, but the price goes up once the set goes live, so be sure to pre-order if you're interested. As an added bonus, those who preorder will receive a swag ebook filled with bonus content. My contribution is an alternative point-of-view scene from Ferromancer.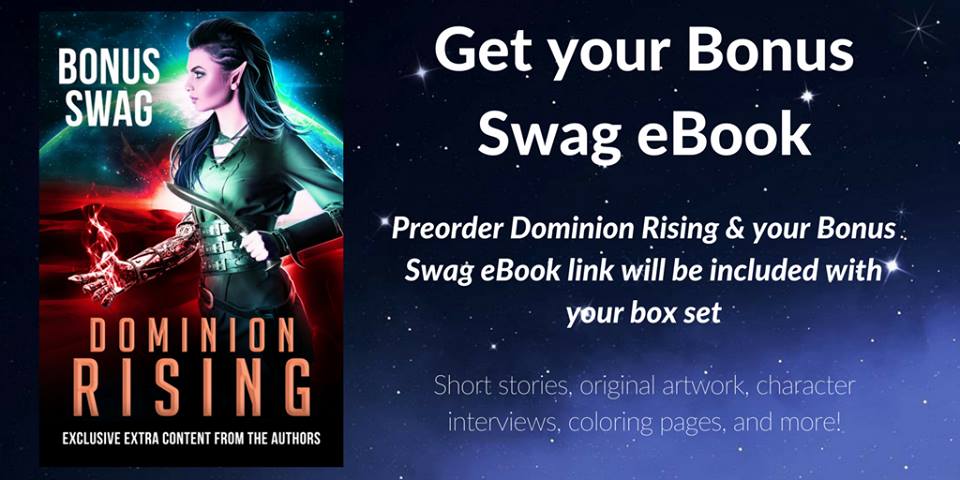 If you're wondering what else you'll get in Dominion Rising, here's a list of the titles and taglines for the other books in the set. You can take a closer look at the individual books over my Facebook page. A different book will be featured each day up until release day.
Here's the lineup…
…
Reign of Steel and Bone by Erin St Pierre and Gwynn White
A stolen weapon. A forbidden romance. One chance to save the world…
…
Mind Raider by S.M. Blooding & P.K. Tyler
One weapon to re-write everything. One team to stop it all.
…
Sorcery & Science by Ella Summers
Urban fantasy. Galactic consequences. Sorcery & Science is a new urban fantasy novel set in the rebooted Sorcery & Science universe.
…
Spectral Shift by Daniel Arthur Smith
We were never alone.
A prescient rendering of a dark cyberpunk future, a Neon Dystopia with a Lovecraftian flair.
…
Petra: Immortal Codex, Book 1 by Cheri Lasota
The darker the gift, the higher the blood price. And I have paid it all.
…
Infinite Waste by Dean F. Wilson
An epic space opera adventure.
…
Girard The Guardian by Ann Christy
True Vampire… They're not what you think. True Vampire… All Will Be Revealed.
…
Flicker by Rebecca Rode
Even the best weapons can backfire.
…
Star Compass by Anthea Sharp
Charles Dickens meets Firefly in this SF Steampunk tale of an orphan destined for the stars.
…
Vengeance: Warships of the Spire by S. M. Schmitz & Lisa Blackwood
When rogue AIs steal everything that matters most, the only thing left is vengeance.
…
Touching Infinity by Erin Hayes
These space pirates thought they were prepared for anything. They were so wrong.
…
Death Plague by K. J. Colt
Faced with a disease that could wipe out the nation of Senya, King Cevznik decreed that healers were the property of the country, and belonged to all men. They were beaten, ravished, and enslaved like animals, depriving them of purity and holiness.
…
Curiouser and Curiouser by Melanie Karsak
Sometimes love is mad.
…
Ultras by Timothy C. Ward
Forbidden Memories. Ancient Powers. Galactic Uprising.
…
Maze: The Waking of Grey Grimm by Tony Bertauski
Awareness leaping is all the rage.
…
Prescient by Derek S. Murphy
One minute, I was at a party. The next minute, the world ended.
…
Blood for Stone by Logan T. Snyder
Meridia's most notorious investigators meet their match, and nothing will ever be the same again.
…
The Incurables by Felix R. Savage
A Game of Thrones… set in 1980s Belfast.
…
The Other by Marilyn Peake
Fear can blind you to the truth.
…
New York by J.C. Andrijeski
Born in a cyber world. Hunted by an ancient cult.
…
Rift Cursed by Margo Bond Collins
Madness isn't the worst that can happen.
…
The Zoo at the End of the World by Samuel Peralta
A young girl, one of the caretakers at a private zoo, looks after her charges in the weeks before a comet destroys humanity.
…
Iron Tamer by Tom Shutt
This is not a completed novel. Tom Shutt passed away during the production of this book. The authors of Dominion Rising have included it in honor of his contribution.