Doodles
Posted by Becca on May 15, 2014 in Fun Stuff | 5 comments
With the release of The Blood Alchemist fast approaching (only two days to go!), I thought I'd share a few doodles from my sketch book.  I'm not much of an artist, but sometimes I do some sketches to get the creative juices flowing.  When I admitted as much to my Twitter buddy Jenn (who's an awesome artist–check out her stuff!), she encouraged me to share.  So, here we go.  Yet another glimpse into my mind.  (Scary place, I know.  :P)
These three sketches are scenes you might recognize from the three chapters I posted earlier in the week.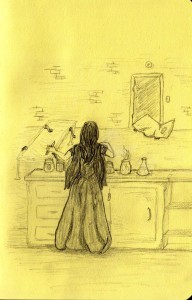 This final sketch is from a scene a bit later in the book.  The images are a little on the small side here, but if you click on them, you can check them out in all their sloppy glory.
And no, I haven't had a single art class.  (Astonishing, huh?) But I do enjoy drawing.  There's a certain satisfaction to getting close to capturing on paper what I see in my head.  I just wish I could draw people.  🙂
Thanks for stopping by.  I hope you found my doodles entertaining.  Be on the look out for The Blood Alchemist this Friday!
Now back to work on the next book…