A Holiday Giveaway
Posted by Becca on Dec 24, 2016 in Fun Stuff | 4 comments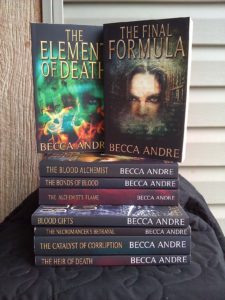 In this season of gift giving, I wanted to give back to all the awesome folks who have helped spread the word about my books by leaving an honest review. As a thank you for your help, I'm giving away autographed paperbacks from the Final Formula Series.
To enter this giveaway, all you have to do is let me know where you left a review of one of my books. The review can be on a retailer (Amazon, Barnes & Noble, etc.) or a site like Goodreads. You'll get a giveaway entry for each review. If you reviewed three of my books, that's three chances to win. If you reviewed The Final Formula on Amazon, then copied that review to your Goodreads account, that counts as two reviews, and two entries. Just send me an email using the contact form here on my website, and let me know where your reviews are and what name you used to post them.
Grand Prize – A complete set of signed paperbacks featuring every novel and novella in the Final Formula Series. That's nine books! I'll even send FF5 once it becomes available—hopefully in early 2017 (sorry, that one took longer to come together than I had hoped).
Runner Up Prizes – Three lucky winners will receive autographed paperback copies of Blood Gifts, my Ian prequel novella.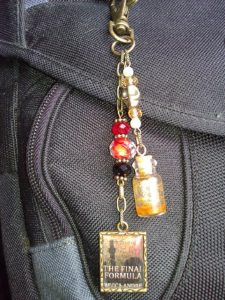 But that's not all. For those special fans who went above and beyond, and reviewed every book in the Final Formula series—including the bundle—I have a little thank you gift. (See picture.) This charm features some fun icons from the series, including a vial of the Final Formula, a Fire Element bead for New Magic, and a little golden skull for Old Magic. 🙂
It's not too late to enter!
Have you been meaning to leave a review on that last book and just haven't gotten around to it? Or maybe you just discovered the series and haven't finished reading? You still have time. The contest ends on January 5th at midnight (Eastern Standard Time).
A final note… All reviews count, even the less than glowing ones. Also, reviews don't need to contain plot summaries and in-depth character analysis. A few sentences detailing what you liked about the book is what most folks want to know when reading a review. I know I prefer not to have the plot spoiled. (For a complete list of all the books in the Final Formula Series, click on the Books tab in the menu bar.)
Winners of the paperbacks will be selected in a random drawing by me on January 6th and notified shortly thereafter.
Happy holidays, everyone, and thanks for another great year!