Now Available: New Multi-Author Boxset
Posted by Becca on Nov 15, 2019 in My Books | Comments Off on Now Available: New Multi-Author Boxset
I've included The Necromancer's Betrayal in the shifter-themed boxset, Wolf Nights. This FREE set is a mix of Urban Fantasy and Paranormal Romance by some talented authors in each genre. Even if you've already read my book, this is a great opportunity to get four more books at no cost. Grab your copy today!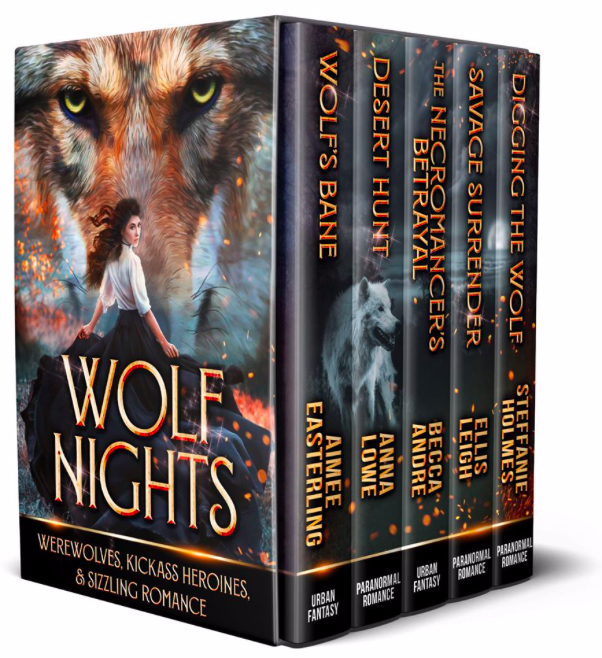 Indulge in five unforgettable, wolf-filled nights!
Dive into tales of alpha males, swashbuckling adventures, and fated mates in this box set of paranormal romance and urban fantasy novels. Team up with wolf, fox, and coyote shifters, hellhounds, necromancers, cowboys, and kickass heroines as they face down danger, dig up the past, and fall in love.
Wolf Nights includes:
Wolf's Bane by Aimee Easterling — In a world where different is dangerous, a fox shifter teams up with her greatest enemy to put food on her sister's plate.
Desert Hunt by Anna Lowe — Strictly off limits or destined mates? Rae has a secret she will guard with her life, but she's forced to trust Zack, a coyote shifter from the wrong side of the tracks.
The Necromancer's Betrayal by Becca Andre — Elysia doesn't want to be a practicing necromancer. But when she accidentally soul-binds an undead shifter of incredible power, she must embrace all that she is to save him from her brethren.
Savage Surrender by Ellis Leigh — Two kidnapped women, one dangerous soldier about to come face-to-face with fate, and a monster set on destroying everything in its path. There's no escaping a Dire Wolf on the hunt…for his mate.
Digging the Wolf by Steffanie Holmes — A mystery on an archaeological dig, a broken heroine burying her past, and a hero so hot he'll have you howling for more.
Available at: Amazon | Barnes & Noble | Kobo | Apple | Smashwords